WeMoon Land is kicking off a fundraising drive for an essential maintenance project!
We need to caulk the windows & paint Oma!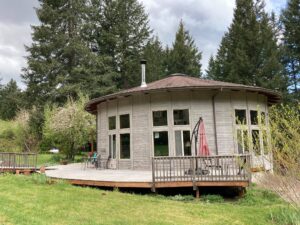 It isn't just about looking pretty, but rather this is an essential step in the long term care of Oma, the primary community building on WeMoon Land, the Mother House.
Our goal is to raise $5000  for supplies and labor.
You can contribute via the Support WeMoon Paypal Donation Button below,
Or call or email us for the P.O. Box to mail a check to WeMoon HomeStead, 
About OMA:

OMA is the Mother House. She sits on the Mother Earth and she shelters the homestead Womyn and a vast community of Womyn from the driving sideways Oregon rain, from misty rain, from gusting winter winds, and from scorching heat of hot August sun. Womyn who visit the Mother house find sanctuary in her walls. Oma has held us as we sing, create community ritual, cooked and shared community meals, mourned our dead, celebrated each other, provided safety for countless Womyn napping and sleeping within her walls. Oma, our communal Mother house is a heart of our communal endeavors. We must care for her as our mother.